I. Features of Single-door Full Height Turnstile Gate
1/18 – Self-check function of Single-door Full Height Turnstile Gate
When the Single-door Full Height Turnstile Gate is powered on or restarted, it will automatically detect whether the function is normal and will give an alarm if any abnormal phenomena are found.
2/18 – LED direction Light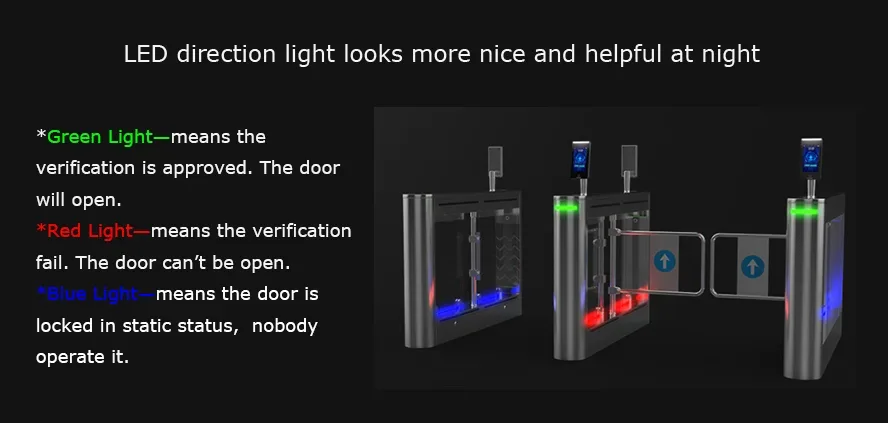 *KEEP KIND HEART adopts the ultra-high brightness LED Light design so that the passing status and direction indicator become more eye-catching and helpful for passers-by to pass. Meantime, make the Single-door Full Height Turnstile Gate look nicer.
3/18 – Access Direction
You can set it to the below modes optional.
Uni-directional = One-way Access ——– [Entry-allow, Exit-prohibit.] or [Entry-no, Exit-allow.]
Bi-directional = Two-way Access ——– [Entry-allow, Exit-allow.]
No Access = Both-way unavailable ——– [Entry-prohibit, Exit-prohibit.]
4/18 – Multiple opening-door ways optional
(1) You can open by an access control system
e.g. swiping an RFID card, scanning a two-dimensional code, QR code, bar code, fingerprint, face recognition, temperature detection, mask recognition, password, identity card (ID card), passport, card collector device, button, remote control, etc.
(2) Free passage
No need for a swiping card, QR code, face recognition terminal, etc. The door will open automatically when you enter.
(3) Stay open normally /Stay closed normally
You can switch it freely. (For Special times: You can set it to open mode normally, to meet a large number of personnel traffic.)
(4) Remote control
You can open the door remotely.
(5) Emergent open
In case of emergency and power failure, the door will automatically open. It's good for people to evacuate in time, in line with fire fighting requirements. Of course, You can also control it remotely. After the power is on, the door will be closed and locked automatically.
5/18 – Strong Integration & Compatibility of Single-door Full Height Turnstile Gate
>>>The Turnstile PCB (Printed circuit board)
We research, develop, and manufacture by ourselves, so our professional team is proficient in each component and own strong customization ability.
>>>The PCB motherboard core processor
It adopts the automotive level of accessories, which start fast, anti-high temperature, anti-low temperature, and higher stable performance.
>>>Strong Compatibility
With a dry contact signal output port and wide threshold signal input port, The Single-door Full Height Turnstile Gate is compatible with various access controllers.
>>>Strong Integration
Go through the continuous upgrade for more than 20 years, its compatibility becomes more powerful and the functions become more comprehensive, so you can integrate it with any 3rd party access control system, e.g.
RFID card, Two-dimensional code, QR code, Bar code, Fingerprint, Face recognition, Facial recognition, Temperature detection, Mask recognition, Password, Identity card (ID card), Passport, Card collector device, Manual button, Wireless remote control switch, PC Computer remote control management system, Mobile phone App control management system, Gym management system, Ticketing management system, Extra LED display, School versatile one card pass management system, Construction site management system, Building management system, Visitor system, Lift access control management system, etc.
>>The Turnstile Gate PCB (Printed circuit board) has a unified and standard electrical interface, which can be connected to various read and write devices for system integration.
6/18 – Alarm
Under the below circumstances, the Single-door Full Height Turnstile Gate System will automatically alarm and don't open the door. Meantime, actively upload data to the monitoring system to capture.
① Break into the gate
It refers to an Unauthorized person entering. Or in the setting of no access mode, an Unauthorized person forces his way to enter the gate. We can regard it as a break-in.
② Collision
People force to push it when the door is locked, it will alarm.
Anti-collision: KEEP KIND HEART adopts reliable electromagnetic clutch locking separation technology. When unauthorized people force to break in, first, the door will be opened at a little Angle (about 10°Angle) to prevent damage to the glass door & movement, then locked immediately. Next, automatically restore the original position and lock soon.
③ Tailgating
It means the person who follows closely behind doesn't swipe the card. After the person in front passes, he takes the opportunity to enter asap. The access control system can detect pedestrian traffic conditions. When it detects the tailgating phenomenon, will alarm and close immediately before he enters.
④ Reverse intrusion
Its meaning is that pedestrians enter the passageway from the opposite direction before the finish of the passing process in one direction.
7/18 – Memorizing all passing requests
When more than two legitimate passing signals are given at the same time (including the same direction and reverse direction), the access control system will remember all passing requests and complete each passing action in turn. (Kindly note: Customers can set the number of memory and whether to choose memory function as requirements).
8/18 – Auto-lock
After the user opens the door, if don't pass within the set time, the door will automatically close and lock.
9/18 – Attendance
*The Single-door Full Height Turnstile Gate can record entry time and exit time for attendance. Meantime, will actively upload data to the visitor system after personnel pass.
*Face recognition turnstile gates can effectively control personnel in and out of the construction site and office building. It can help eliminate the phenomenon that employees substitute colleagues to check in for work.
*Some factories and larger companies can also manage employees' attendance in this way to improve work efficiency greatly.
*The construction company can carry out comprehensive and systematic management for the site staff. And the related data analysis reports can also be exported.
10/18 – Count
*Support adding a counter, which can count the number of people in and out.
*You can also limit the total number of people passing through by software set, to prevent the harm caused by overcrowding.
*It also supports connecting to an external LED display to show real-time entry and exit time, quantity, etc.
11/18 – Visual motherboard
You can debug it as actual needs.
12/18 – Brushless motor
(1) >>>Brushless motor we used:
********No attrition/wear, No fever, No loss nearly.
********Strong rotating power, Lower operation noise, Stable performance, Stable operation, No shake, Lower power consumption, Longer service life, Non-attenuation after 3-5 years.
(2) >>> Brush motor in the market:
********Will cause attrition/wear & fever.
********Higher heat energy loss. Shorter service life needs replacement after 1-3 years.
13/18 – Offline work
Supports the integration with a ticket management system to realize offline work.
14/18 – Batch setting
You can set and debug in batch by software for multiple sets of Three-arm Turnstile Gate, which will improve efficiency and reduce maintenance costs.
15/18 – Remote control
You can connect to a computer with RS485 or TCP, then remote control and manage Three-arm Turnstile Gate in the computer.
16/18 – Supercapacitor Power Supply
KEEP KIND HEART selects the Supercapacitor as a standby power supply, which is used to withdraw the glass gate arm or drop the upper bar arm down for the tripod turnstile gate after a power failure so that the door is open under power off. It's good for people's evacuation.
Advantages of Supercapacitor Power Supply(SPS)
(1) Shorter charging and discharging time
It can quickly provide power support. (It just takes 10 seconds to 10 minutes to reach 90% of the rated capacity. However, 30 minutes can only reach 75% for a lithium-ion battery.)
(2) Strong discharge capacity
SPS has a higher energy conversion efficiency and smaller process loss.
(3) Longer cycle life
The repeated charging and discharging quantity of Supercapacitors can be up to hundreds of thousands of times. However, it can't exceed 1000 times for the battery. It's equivalent to a Li-Ion battery 500 times, and Ni-MH and Ni-Cd batteries 1000 times. Besides, the longer life helps save the time and trouble of often replacing the old battery with a shipping limit problem. (Kindly note: The low-configuration turnstile gates use batteries)
(4) Green environmental protection
The raw materials are non-toxic. At the same time, the production and use process haven't pollution.
(5) Safe and maintenance-free
With a simple circuit, it no need for a charging circuit like a rechargeable battery. Besides, it has a higher safety factor, and is maintenance-free for long-term use;
(6) Higher Power Density
SPS equals 10 times more than lithium-ion batteries
17/18 – Outdoor use with a strong environment adaptive capacity
① Design
***Developed with a highly reliable industrial design concept, the KEEP KIND HEART Turnstile Gate can work stably in complex and harsh working environments.
***Unique 3-layer cabinet design. The upper layer is rainproof, heat insulation. The lower layer is moisture-proof and dustproof. And the middle sealing layer can be used to install electrical appliances such as circuit boards. Therefore, it's a real outdoor machine.
② Exterior Material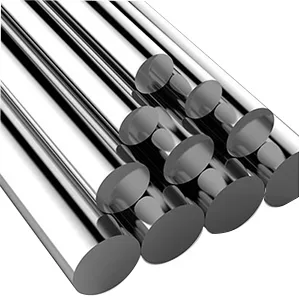 *** The standard is 304 stainless steel, which is enough strong, rigid, robust, wear-proof, waterproof, moisture-proof, damp-proof, heat-proof, anti-rust, anti-corrosion, and durable. It can resist high temperatures, rain, humidity, and salty weather. So you can install it indoors or outdoors to bear any weather.
*** If you need a better 316 stainless steel material to resist bad weather and environment for seaside use, support customization.
③ Internal components
All of the internal components go through anti-rust and anti-corrosion treatment. It ensures the finished products durable, smooth operation, quiet, low power consumption, energy saving, and environmental protection.
④ Waterproof treatment
We add a waterproof rubber pad in products. It is not only waterproof but also has shock absorption and noise reduction function.
⑤ Test
KEEP KIND HEART make a strict test of aging resistance and high & low temperature for the internal accessories. So you can install it directly indoors or outdoors for use.
⑥ Anti-sunlight
With anti-sunlight interference, you can use it under strong light.
18/18 – Customization
Support customization on material, surface treatment, appearance style, size, trademark logo, etc.
II. Parameter
1/27 – Cabinet material
SUS304 brushed stainless steel (If need customized 316 for special occasions, pls inform us.)
2/27 – Production Process
We adopt the accurate grinding brushed stainless steel process, which makes the appearance more beautiful and generous.
3/27 – Rust-proof & Durable
It can still keep bright as new after a longer use.
4 /27 – Dam-board door arm material
Soft foam material or acrylic (optional)
5 /27 – Turnstile rod arm material
304 stainless steel rod. Meantime, you can also add an extra red or black rubber coating to cover the appearance.
6 /27 – Production process:
>>>Full CNC (Computer Numerical Control) laser cutting, opening, one molding technology.
>>>Welding: The assembly mainly uses internal welding, the external welding area is less, and makes the appearance look more beautiful.
>>>Corner parts: use special grinding tools, multiple grinding, looks more bright and smooth
>>>Using anti-fingerprint nanotechnology
>>>Internal wiring: the main and secondary boards use 485 communication to transmit data, and there are few internal connections in the cabinet, and the wiring is organized, which is convenient for space management.
7/27 – Turnstile Gate board synchronization
You can adjust it digitally, no need to change the position of the detection board in place.
8/27 – Brushless motor pulse output
It can accurately position the turnstile gate board position, and realize segmented speed control, soft start, and soft stop. Besides, it can also realize the sensitivity control of clamping force by the calculation of the pulses quantity per unit of time, so it can help us leave out the traditional encoder.
9/27 – In-position check
We adopt Hall mode. It's moisture-proof and dust-proof.
10/27 – Passage width: 650mm (500-800mm optional).
11/27 – Unlocking Time: 0s, (semi-automatic Tripod Turnstile Gate: 0.2s)
12/27 – Passing Speed: ≤50 persons/min
13/27 – Communication interface: RS485
14/27 – Communication mode: TCP/IP
15/27 – Drive signal: 12v dry contact
16 /27 – Control input: relay or dry contact signal, 485 communication.
17/27 – Power input voltage: AC 220V (110-240V). Frequency: single-phase 50-60Hz
18/27 – Drive working voltage: DC 24V
19/27 – Drive motor power: 50W
20/27 – Leakage Switch
The standard configuration is a leakage switch (The industry standard is an air switch). It's able to trip separately, avoiding the risk of electric shock caused by leakage
21/27 – MCBF: 12 million
22/27 – Waterproof and dustproof grade: IP65 or above
23/27 – Working environment temperature: -25~+70℃
24/27 – Relative humidity: 0-95% (non-condensing)
25/27 – Working environment: indoor, outdoor
26/27 – Warranty: 1 year.
27/27 – Maintenance: lifetime.